Holiday Bazaar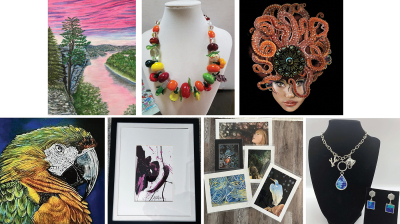 FREE ADMISSION (but we do ask that you register if you're going to attend)!
Join Arts Advocates for our holiday bazaar and enjoy holiday music, wine and treats while you shop for paintings, jewelry, and home goods created by Arts Advocates member artisans. Please register if you're attending (so refreshments can be planned).
~ Judy Levine: One-of-a-kind jewelry, made with antique beads, amulets, hand blown glass beads, gemstones, and more
~ Chris Butcher: An array of items with artworks she has created, including piece from her recent series, "The Bird People," which remakes famous paintings by changing all the people into birds
~ Stephenie Frasher and Janet Apfel: Polymer clay earrings and necklaces
~ Elizabeth Trostli: Digital paintings on canvas from her Gallerie of Masques and Show of Hands series, along with original glossy prints
~ Dan Houston: Abstract and realism paintings created with acrylics and mixed media on paper, canvas, and wood
~ Offerings from Lynn Coppinger (paintings), Lynn Elgart (jewelry), and Sandy Koolkin (acrylic pours)
~ Designing Women Boutique will be on-site as well, with an array of items from their shop, and will be collecting donated items for their boutique.
Ticket Information
| Ticket Type | Price |
| --- | --- |
| General admission | $0.00 |