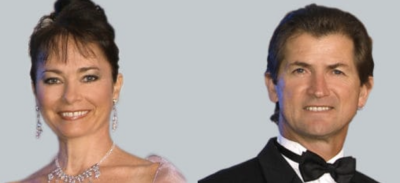 Lunch Choices - use dropdowns on the registration form to indicate your selections
Regular: Chicken salad niçoise - herbs de Provence-seasoned chicken breast, French beans, Kalamata olives, diced tomato, hardboiled egg, potato and capers over baby greens with extra virgin olive oil and balsamic glaze
Vegetarian: Chicken salad niçoise without the chicken
Dessert: Strawberry shortcake OR fresh fruit
While Dolly Jacobs' and Pedro Reis' paths crisscrossed throughout their lives as circus performers, they didn't imagine creating a professional circus with an outstanding education and outreach program … but that's exactly what they did. The founders of Florida's only professional not-for-profit circus -- celebrating its 25th anniversary this year -- will share their story and discuss the legacy and future of circus arts.
Pedro Reis was born in Cape Town, South Africa, and began his circus training at a YMCA when he was 12. He developed his skills on the flying trapeze and later helped establish the first circus school in South Africa. Dolly Jacobs was born into circus life. Her father was Lou Jacobs, the legendary clown for Ringling Brothers and Barnum & Bailey for over 40 years. As a girl, Dolly trained with the Sailor Circus and at age 16, launched her career with the Ringling circus as an aerialist.
Pedro and Dolly have brought the magic of circus to more than 200,000 people to date. Recognized for leadership in artistic programming, The Circus Arts Conservatory has received the Small Business Award from the Greater Sarasota Chamber of Commerce. Both Pedro and Dolly have been inducted into the Circus Ring of Fame on St. Armands Circle and the Circus Hall of Fame at the John and Mable Ringling Museum.
NOTE: Please indicate any special seating requests in the comment box on the registration form.