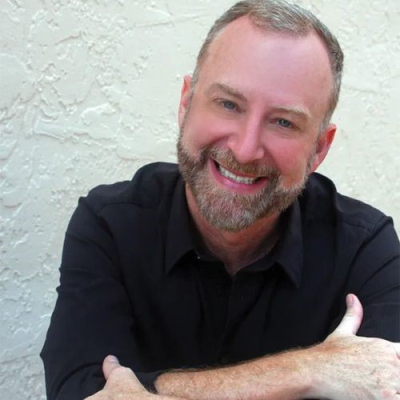 Lunch Choices - use dropdowns on the registration form to indicate your selections. Please note that your entreé and dessert choices cannot be changed at the luncheon.
Regular: Mango mahi-mahi with coconut basmati rice and julienne of vegetables
Vegetarian: Thai curry - bok choy, julienned vegetables, edamame, coconut and red curry stew over coconut rice and fresh herbs
Dessert: Pineapple upside down cake OR fresh fruit
We take pride in Sarasota's amazing and diverse arts offerings … but there's something missing, according to Jeffery Kin, our April luncheon speaker. Something that could elevate all of our community's cultural assets. Something that can benefit our arts organizations and artists as well as our residents and visitors: an annual arts festival!
Jeffery is the executive director of Sarasota Rising, a nonprofit established in 2021 to create an annual, weeklong interdisciplinary arts festival centered on the performing arts. "Living Arts Festival Sarasota" is scheduled to launch next year, with exciting features such as premieres of performing arts productions, art exhibitions, youth and family programming, celebrations of diversity, block parties, inspired food and beverage showcases, and educational outreach.
As our guest speaker for this luncheon, Jeffery will fill us in on his team's progress to date, including takeaways from his visits to Charleston's Spoleto, Orlando's Fringe Festival, Cleveland's Ingenuity Fest, and the Florida Festival and Events Conference. He will also give us his insights as to how and why this initiative is vital to the next stage of our area's growth.
Drawn to the area by its lively cultural arts scene in 1991, Jeffery has been an award-winning actor, director, producer, and playwright, but is likely best known as the driving force behind The Players Centre for Performing Arts. For 15 years, Kin led the organization through acclaimed seasons, coordinated and implemented year-round programming, and helped boost its donor and patron base. You may also recognize him as a cohost on WWSB/ABC-7's popular Suncoast View.
Don't miss this opportunity to learn about an exciting week-long event that is sure to have an impact on our national reputation as an arts center extraordinaire!
NOTE: Please indicate any special seating requests in the comment box on the registration form.