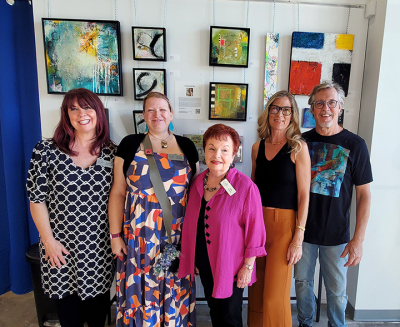 The Colony artists put Sarasota on the map as a city with a vibrant visual arts scene. Over time, though, Sarasota has become better known for other art forms such as ballet, opera, and theater. While visual artists have continued to thrive, the lack of an overarching organization has diminished their public profile. The people you'll hear from during this art talk have set out to let everyone know that the visual arts scene in Sarasota is stronger than ever.
In 2021, Jen Palmer created Sarasota Studio Artists Association. On the second Saturday of each month, the more than 65 SSAA members open their studios to the public. This affords art lovers the opportunity to get a peek into these artists' inner sanctums while giving the artists the chance to talk with people about their work.
Creative Liberties was founded in May 2021 by Elizabeth Goodwill and Barbara Gerdeman to provide services and affordable studio space for artists. Located in the Limelight District, 901B Apricot Ave, the company's motto is "Artists Helping Artists." Participating artists work in a communal space, enhancing the artists' ability to share ideas and help one another realize their visions. And whenever the doors are open, the public is invited in to see the artists at work.
The concept behind Creative Liberties has proven so successful that they recently expanded to a second location. The new space, located at 927 N. Lime Avenue, includes a classroom that is perfect for monthly family art days, when members of the community are invited in to create art free of charge.
Craig Palmer recently opened Palmer Modern at 925 N. Lime Avenue, which is right next door to Creative Liberties. His space features an art gallery and includes a studio for himself as well as well as affordable studios for five additional artists.
Don't miss this opportunity to hear from the people who are working to elevate Sarasota's reputation as a mecca for visual artists and art lovers.