Art Talk: Philomena Marano - Drawing With an X-ACTO Knife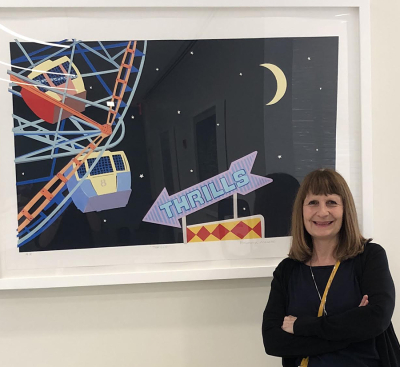 Artist Philomena Marano is a daughter of Brooklyn. She holds a B.F.A. from Pratt Institute, is an intimate of the visual poetry of Coney Island, created the winning poster for the first Spirit of Brooklyn poster competition, and is a master of papier collé, the elegant cut paper technique she learned as a studio assistant to preeminent artist Robert Indiana.
With paper as her palette and an X-ACTO knife as her rendering instrument, the iconic architecture of the rides, signs and attractions as well as other forms of urban and popular culture are perfectly suited for her practice. Her graphic distillations capture the beauty she finds in unnoticed spaces and in out of the way places. Thrills, wonder, memory, fascination, and escapism resonate in her work.
Ticket Information
| Ticket Type | Price |
| --- | --- |
| Arts Advocates member | $20.00 |
| Non-member | $25.00 |