Holiday Bazaar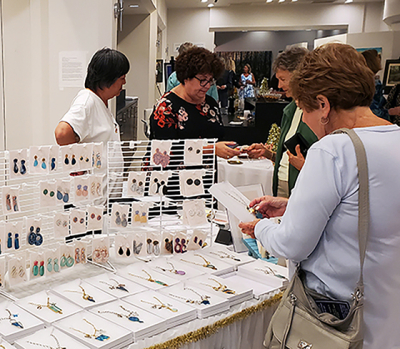 Join Arts Advocates for a FREE holiday bazaar and enjoy holiday music, wine and treats while you shop for paintings, jewelry, and home goods created by Arts Advocates member artisans. Meet and mingle with other members and guests while you enjoy wine and nibbles.
Some of the artisans who will be selling their wares:
~ Judy Levine: One-of-a-kind jewelry, made with antique beads, amulets, hand blown glass beads, gemstones, and more
~ Chris Butcher: An array of items featuring artworks she has created, including pieces from her recent series, "The Bird People," which remakes famous paintings by changing all the people into birds
~ Stephenie Frasher and Janet Apfel: Polymer clay earrings and necklaces
~ Elizabeth Trostli: An array of her Royal Pet Portraits - bunnies, kittens, and puppies dressed in historical costumes available as notecards, prints, and calendars – along with small digital paintings from her Gallerie of Masques and Show of Hands collections.
….as well as offerings from Lynn Coppinger (paintings), Sandy Koolkin (acrylic pours), and Helena Poto (T-shirts and cards).
This event is FREE. Registration is requested but not required.